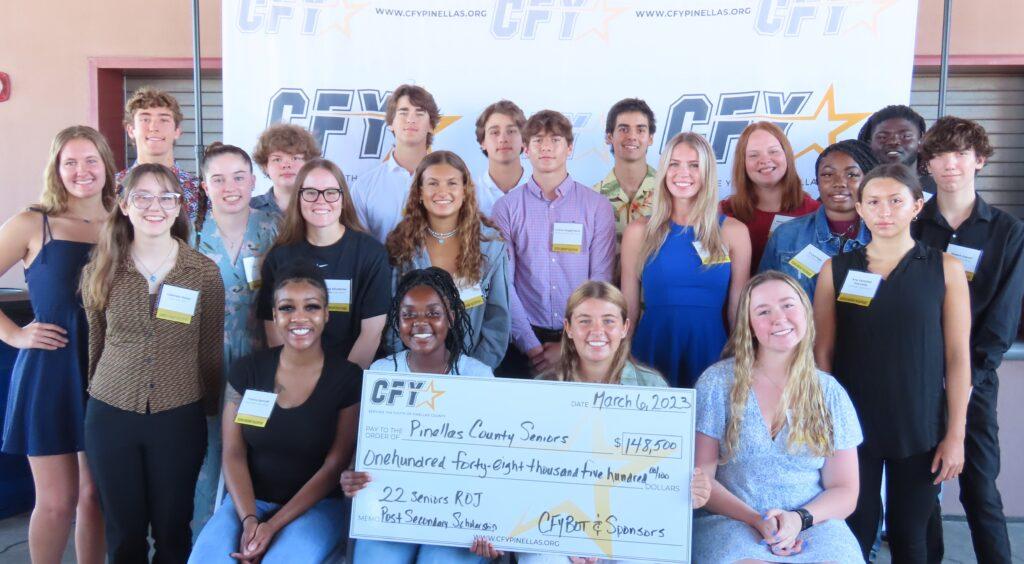 Clearwater, FL: CFY's 2023 Richard O. Jacobson (ROJ) Postsecondary Scholarship Program has reached new heights with a total of $148,500 to be awarded this summer, on pace with $153,000 in 2022. Since the program's inception CFY has given over $900,000 in scholarships. The final distribution of awards includes: eight $10,000 college/university awards, thirteen $5,000 college/university awards, and one $3,500 technical/trade awards, for a total of 22 lives impacted. Each honoree had the opportunity to meet their scholarship sponsor at "Breakfast at the Ballpark", sponsored by the Philadelphia Phillies at their Spring Training home away from home on March 6 th .

Over 140 applications were submitted, each undergoing a blind review by CFY's Scholarship Committee. Since the formalization of the program, the committee has been chaired by CFY Board Member, Dawn Daugherty, who has been a sponsor herself since the very start. with this year's new Co-Chair Brandy Halladay. "The generosity of our sponsors and the enthusiasm and accomplishments of these students continue to amaze me and fill my heart! I am so proud to be a part of the CFY organization and this Scholarship Committee." Co-Chair Brandy Halladay adds "I am so excited to be able to co-chair this program. Impacting the educational journey of these 22 children has been a highlight from me and our entire CFY Board of Trustees."

What started as a few one-off scholarships awarded to local seniors as an extension of CFY's youth- focused mission quickly gained traction, offering sponsors the opportunity for direct impact with their selected student: 100% of sponsor dollars are paid directly to the postsecondary institution, all administrative expenses associated with the program covered by CFY. Today there are close to 20 sponsors, some with multiple scholarships, and many who continue to support the program year after year.

The ROJ scholarship program reopens each year on November 15 th with an online application open to all Pinellas County High School seniors, or those of similar age who are in pursuit of or have completed their GED. Sponsor inquiries and other program related questions may be submitted to [email protected]