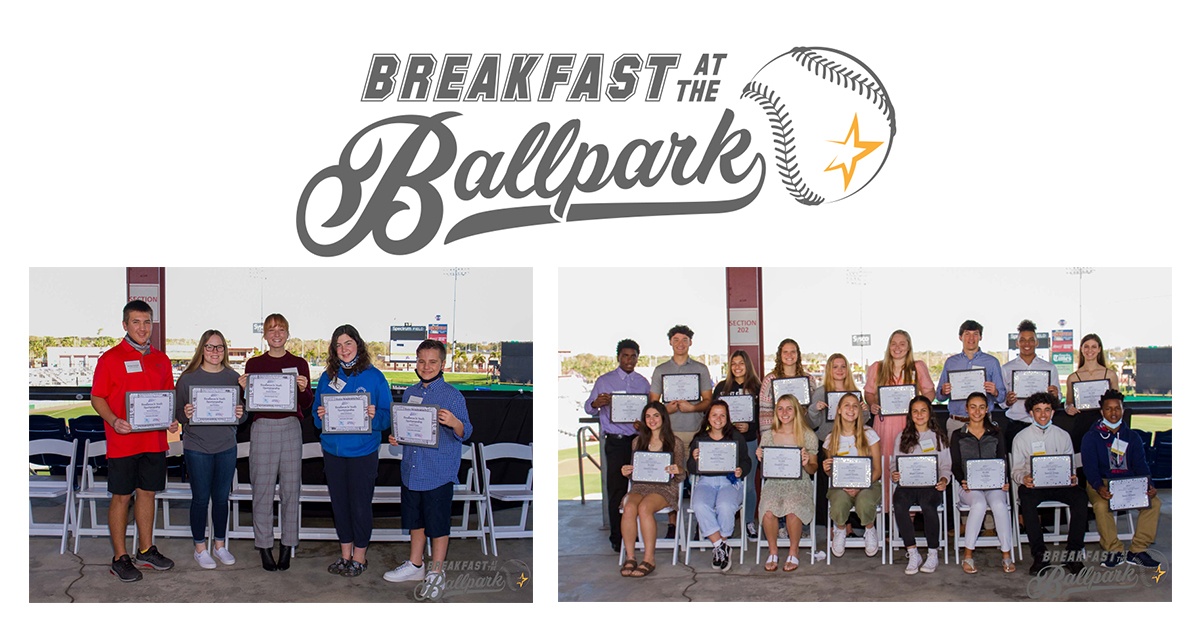 A home-run recognition ceremony for our Richard O. Jacobson Scholarship recipients & Excellence in Youth Sportsmanship honorees
On Thursday, February 25th, CFY hosted Breakfast at the Ballpark at the home of the Philadelphia Phillies Spring Training and the Clearwater Threshers, BayCare Ballpark (freshly renamed that same day) to recognize this year's class of 18 Richard O. Jacobson Postsecondary Scholarship recipients and 15 Excellence In Youth Sportsmanship winners.
As with so many things this past year, we were tasked with being a little more creative in order to hang onto long-standing traditions and offer the honorees the recognition they certainly deserve. Typically, these awards would be recognized at CFY's annual Celebrity Banquet, but in efforts to comply with CDC and local guidelines for gathering and social distancing, we took the opportunity to break out this ceremony into a stand-alone event – something that has long been discussed within the CFY huddle. After all, they are the are the stars of our show.
Thanks to our friends over at the Phillies & Threshers, we were able to host this special event at their facility right here in Clearwater, keeping within the sports theme and giving our guests the opportunity to revel in an environment that has been out of reach for nearly a year. Scholarship recipients and their families were able to meet their sponsors, EIYS students with fellow athletes and City of Clearwater officials, all while their accomplishments were displayed on the jumbotron throughout the morning.
This year, the Richard O. Jacobson Postsecondary Scholarship Program reached 16 Pinellas County High Schools and over 80 applicants before being narrowed down to the final 18. Thanks to our sponsors and their commitment to this program and the children it serves, we were able to award $115,000 in scholarships, which we look forward to delivering to the institution of the students' choosing on their pursuit of higher education or vocational training this fall.
CFY is also excited to announce that after many years of partnership with the City of Clearwater on the Excellence in Youth Sportsmanship, we will be furthering our involvement in the monthly activities these athletes are offered in tandem with their award. We look forward to sharing more details in the coming months, so stay tuned for more information and opportunities to get involved.

CFY extends heartfelt appreciation to our ROJ Scholarship sponsors for investing in the futures of this year's 18 students: The Barris Family, BayStar Restaurant Group, Capogna Family/Capogna's Dugout, Clearwater Gas System, Clearwater Lady Bombers, Clearwater Police Department, Dealers Auction Xchange of Tampa Bay, Dell, Doganiero Foundation, E*Star Roofing, Drs. Kiran & Pallavi Patel Family Foundation, Pinellas County Sheriff's Office, Priority One Clearing Services, Simpson Air, Michele Smith & Disney, TAG Agency of Pinellas, Tampa Bay Rays.


This post was included in our February 2021 newsletter, FYI on CFY. Enter your email below to get first access to great content like this and all other important news from the CFY huddle!