CFY (Clearwater for Youth) founder Frederick Fisher passed away at his home in St. Petersburg on September 25, 2023, at age 92. He was born March 15, 1931, in Joliet, Illinois. Fisher was well known for countless public endeavors, like launching Clearwater for Youth in 1972, a nonprofit that gives children access to sports and mentorship. He raised $15 million to build the Long Center with an Olympic-sized pool, a gymnasium, and a program to teach children to swim.. The effort was inspired by personal tragedy. In 1962, Fisher's 4-year-old son, Mark, drowned in a pond in Tampa, leaving a lasting impact. He raised $10 million to get Ruth Eckerd Hall out of debt in its early years, started a drug rehabilitation clinic and was a founding member of Saint Paul's School.
When the Clearwater Police Athletic League was discontinuing a youth football program in 1964, Fisher and three fellow Kiwanis Club members committed to picking it up. They formed a conference to allow the kids to compete with teams from across the state and expanded into baseball, soccer, and other sports. In 1972, they created Clearwater for Youth and began raising money with celebrity banquets that attracted names like Bear Bryant, Hank Aaron, and Joe DiMaggio.
"Fred's vision and leadership of the CFY organization has provided millions of dollars in grants, matching funds, and scholarships to deserving youth athletes over the past 50 years," said Mayor of Clearwater Brian August Sr., immediate past Board Chairman for CFY. "His legacy as a selfless servant leader leaves an immeasurable impact on the community. His founding philosophy for CFY was simple: to never turn a child away from constructive activities, for any reason."
"Fred was a very dedicated person with everything that he did. He built the Long Center Complex because he saw a need in the community for the kids. The dedicated people at CFY had the determination to see that it became a reality," CFY Chairman, Fred Miller.
He and his wife Aleta supported the missions of the Morton Plant Mease Foundation, Community Foundation of Tampa Bay, The Florida Orchestra, Clearwater Free Clinic, Homeless Empowerment Program, Dunedin Fine Arts Center, Humane Society of Pinellas County, ARC of Tampa Bay, and American Stage, FreeFall and Stageworks Theaters.
He is survived his wife, Aleta; his children, all of whom are college graduates: Scott D. Fisher, Jill Cope (Rich), Todd C. Fisher, Paige Fisher Simpson (Garry); and three grandchildren: Peyton Fisher Powers, Haynes Ellis Simpson, and Quinn Fisher Simpson. He was preceded in death by his parents and two children, Frederick E. Fisher Jr., and Mark Frederick Fisher.
"I thank each and every one of you for your support and belief in making our community a better place and believing in the Mission of the Long Center: keep our kids physically busy during the day and they will sleep well at night and stay out of trouble – and works for adults too!"

Fred Fisher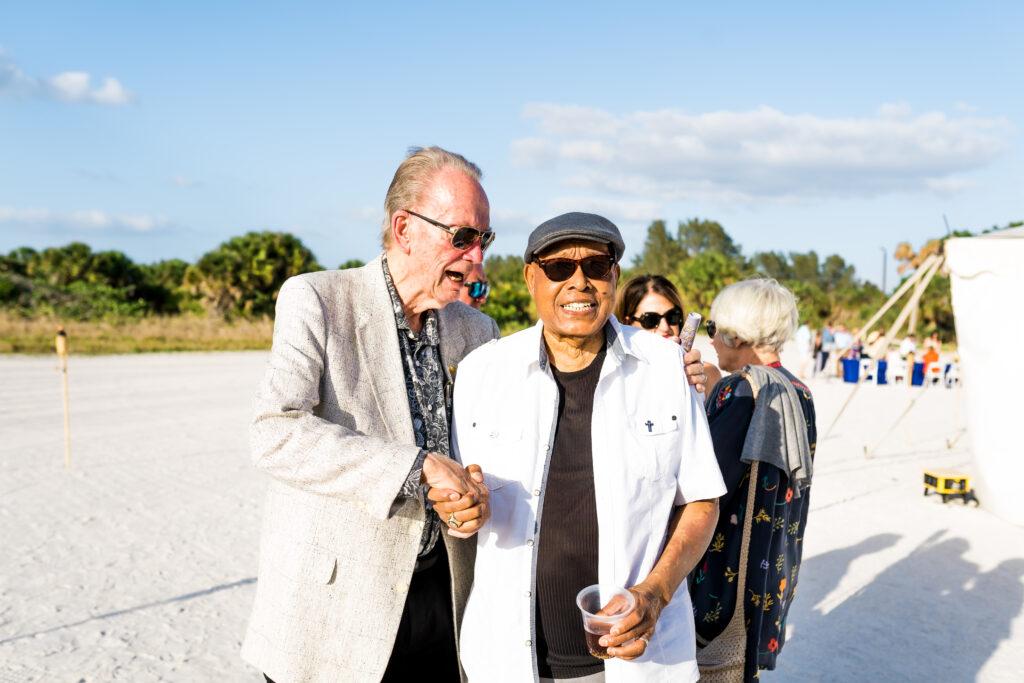 UNIVERSITY OF FLORDA ALUMNI: FREDERICK E. FISHER
Fred Fisher gave millions to Clearwater causes, urges others to follow